Urethane Square Block/Bar Stock


The list of industries which benefit from the use of urethane is long, and the ability to customize hardness and order custom sizes from Universal Urethane means that we can help you find or create the perfect material for whatever you need. We manufacture the highest quality urethane bars in the market.
Polyurethane block/bars are used in several applications:
Urethane has several properties that set it apart from other materials often used for the same purposes, like rubber or plastic. Here are just a few advantages of choosing polyurethane for your application or project: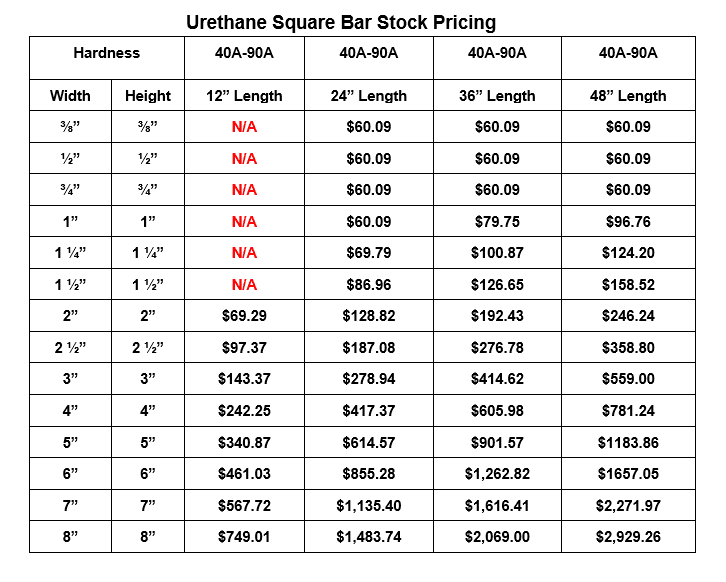 Though standard materials may degrade through long-term use or repeated wear, polyurethane is formulated in different hardnesses to stand up to heavy use. This makes it an ideal material for those in the manufacturing industry to consider using, along with these industries: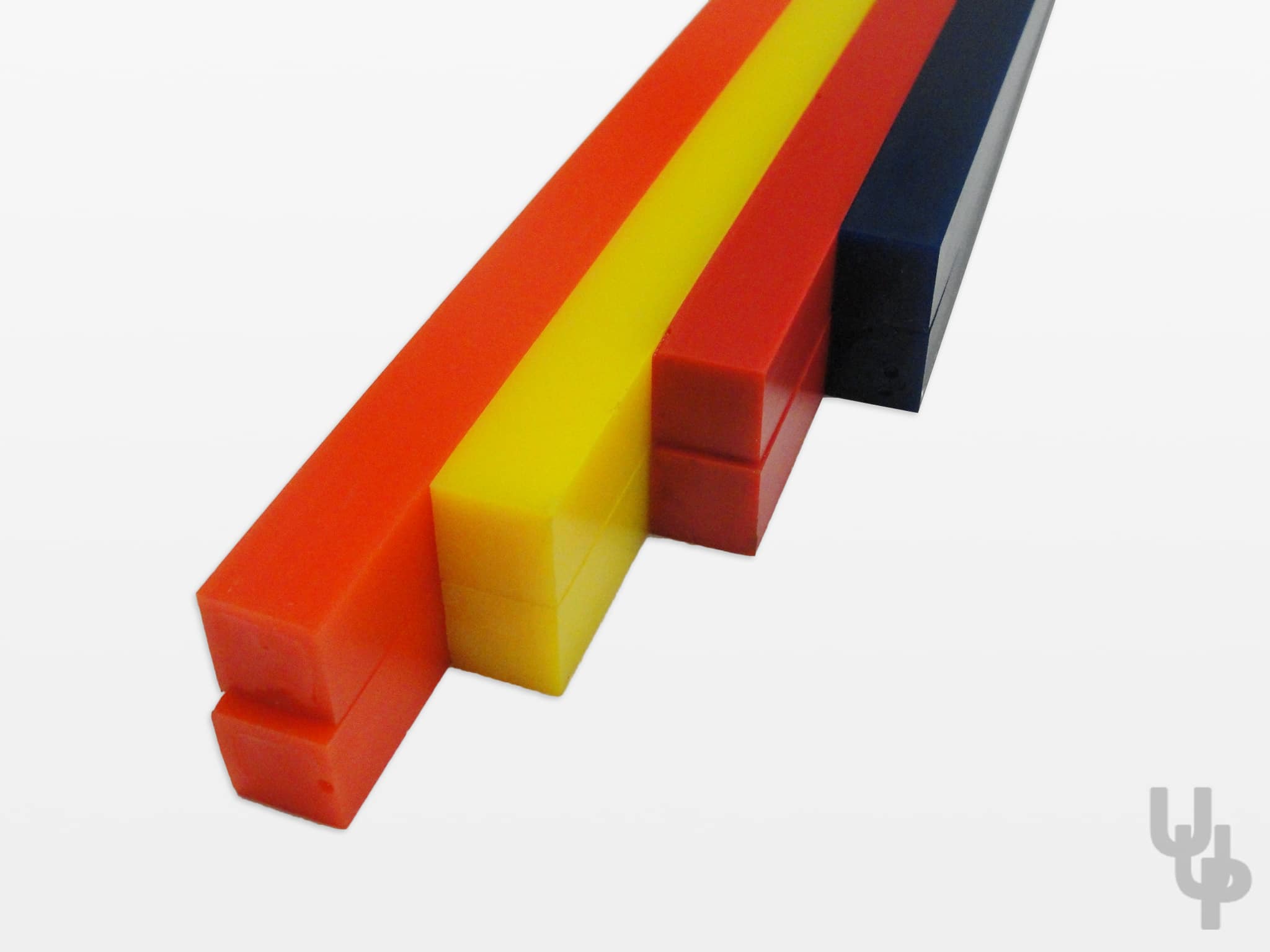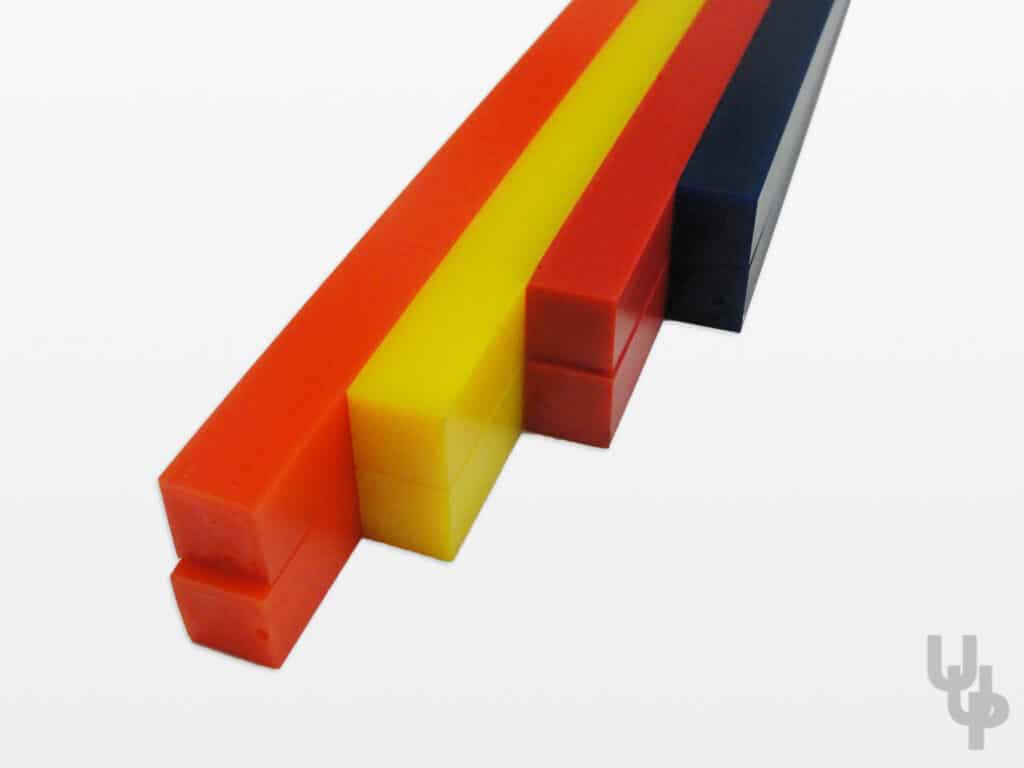 What Durometer Should I Use?
There are times when researching for a project, you need to know the hardness of the material you are wanting to use. Below we have included a chart with durometers of different products that range from soft to extra hard.
If you have any questions, please give us a call at (419)-693-7400 and one of our technical sales people can assist you.
Urethane Characteristics
Broad hardness ranging from 40 shore A to 90 shore A. Red, natural, and black are the standard and other colors are available upon request. Urethane is abrasion and cut resistant. Urethane is chemical and oil resistant. Urethane is machinable and resilient .Urethane has a lower tooling cost, has a high load bearing capacity and has elastic memory.
Standard Colors
Standard: Red, Natural, or Black, 20% Up Charge for Special Colors.
Availability
2-4 Business days (call for rush orders).
Stocked Inventory Dimension Tolerances
These tolerances cover all stocked products except where noted. Please advise factory if a closer tolerance is required.
Hardness Range
40 – 90 Shore A Durometer Standard Stock Size. 65 Shore D Durometer Available for a 20% Up Charge
Pricing Details
Call for quantity discount
Advantages Of Polyurethane Square Block/Bar Stock
Polyurethane Block/Bar is often used as a replacement for rubber components and provides an obvious upgrade over the traditional material. Polyurethane bar/block has a much-improved resistance to wear and can out last other materials by as much as four times.
Another advantage is the performance during load and compression, Polyurethane will out perform rubber which will often permanently deform much sooner resulting in the associated components, often vehicle suspension parts becoming loose and causing lack of control and often expensive damage. Its resistance to ageing or perishing, rubber will often degrade over sometimes a short period of time, but this can often be accelerated in UV exposure and the contact with oils and fuels.
Polyurethane Block/Bar is also much more resistant to cutting with sharp edges as well as much more impact resistant.
Urethane square block/bar stock can be used to cut out small volume parts for trials and prototyping. Smaller pads can be cut from our stock pads along with longer strips used for bumpers, pads, and protective surfaces. The Polyurethane bar stock can also be easily cut with a water jet to produce low to mid volute quantities of parts without investing in a costly tool.
Advantages Of Polyurethane
Polyurethane is a unique material that offers the elasticity of rubber combined with the toughness and durability of metal. Because urethane is available in a very broad hardness range, it allows the engineer to replace rubber, plastic, and metal with the ultimate in abrasion resistance and physical properties. Polyurethane can reduce plant maintenance and OEM product cost. Many applications using this ultra-tough material have cut down-time, maintenance time, and cost of parts to a fraction of the previous figures. The following are other advantages polyurethane has to offer:
Urethanes have better abrasion and tear resistance than rubbers, while offering higher load bearing capacity.
Compared to plastics, urethanes offer superior impact resistance, while offering excellent wear properties and elastic memory.
Urethanes have replaced metals in sleeve bearings, wear plates, sprockets, rollers, and various other parts, with benefits such as weight reduction, noise abatement, and wear improvements being realized.